Part of WHAT MAKES US DIFFERENT.
Extras included in our tours :
• Private 2-hour visit with just our group inside the Great Pyramid of Giza and a full day on the Giza Plateau
• Tomb of Queen Nefertari in the Valley of the Queens
• Tomb of Ramesses V&VI in the Valley of the Kings
• Pyramid of Unas at Saqqara (earliest Pyramid Texts)
• Karnak Open Air Museum with the Red Chapel and White Chapel during our full day at Karnak
• Abydos, Dendera, Silsila, Esna, Abu Simbel, Ramesseum, Medinet Habu Temple, Luxor Museum, Imhotep Museum (and, of course, the typical sites)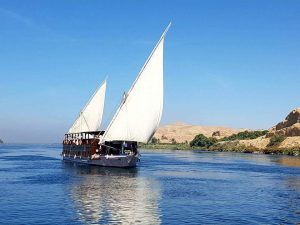 • Our own private dahabeya Nile sailboat enables us to visit sites which are not accessible to the large cruise boats. We move at our own pace and truly relish the peacefulness and beauty of this renowned river. A dahabeya (also spelled "dahabiya") is a large sailboat with 8 guest cabins, a full crew, specially prepared meals, and all the amenities, including wifi. We will have 4 nights on the dahabeya. Day-by-Day Itinerary.
The video above is by Wouter Bosman, All One World traveler, Feb-March 2019 Tour. Thank you, Wouter!
Sites Included in Your 15-day Tour
PYRAMIDS: The 3 Giza Pyramids & Sphinx, Saqqara Step Pyramid, Unas Pyramid, Dashur Bent Pyramid & Red Pyramid. PLUS! a private visit with just our group in the Great Pyramid!
TEMPLES: Sphinx Valley Temple, Karnak Temple Complex (multiple temples), Abydos Seti 1st Temple, Abybos Ramesses II Temple, Dendera Hathor Temple, Hatshepsut's Deir el-Bahari, Ramesseum, Luxor Temple, Medinet Habu, Esna Temple, Edfu Horus Temple, Silsila Horemheb Temple, Kom Ombo, Philae Isis Temple, Abu Simbel Temples.
TOMBS: Tomb of Nefertari (special ticket), Saqqara Tombs, Valley of the Kings – 3 tombs + Tomb of Ramesses V&VI (extra ticket)
MUSEUMS: Imhotep Museum at Saqqara, Luxor Museum, Open Air Museum at Karnak, Cairo Egyptian Museum (with King Tut exhibit), Solar Boat Museum at Giza.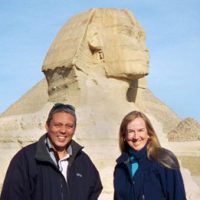 Ruth Shilling, American tour leader, and
Ehab Mahmoud, Egyptologist tour guide. More about them on 1worldtours.com and ruthshilling.com.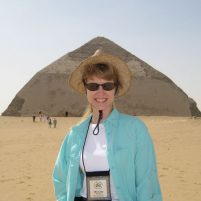 Who travels with All One World? And what do they have to say about our tours? Read about it here . . .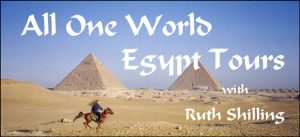 Visit our original website, 1worldtours.com for information about our previous tours, additional photos of Egypt, our contact information and more.
"Time & Space in the Temples & Pyramids"
Day-by-Day: Brief Summary
Day 1, Sun: Arrivals in Cairo. Welcome meeting and dinner. Giza hotel-1.
Day 2, Mon: Dashur – Red & Bent Pyramids, Blue Lotus Guesthouse lunch, Memphis. Giza hotel-2.
Day 3, Tues: Giza Plateau – Great Pyramid, Solar Boat Museum, Sphinx, etc. Private Great Pyramid visit. Giza hotel-3.
Day 4, Wed: Saqqara: Step Pyramid, tombs, Unas Pyramid, Imhotep Museum. Flight Cairo/Luxor. Luxor hotel-1.
Day 5, Thurs: Tomb of Queen Nefertari, Colossi of Memnon, Ramesseum, Hatshepsut's Deir El Bahari, Luxor Temple. Luxor hotel-2.
Day 6, Friday: Optional Balloon Ride, Karnak Temples, Luxor Museum, Luxor Bazaar, Luxor hotel-3.
Day 7, Sat: Day-long trip to Abydos and Dendera. Luxor hotel-4.
Day 8, Sun: Valley of the Kings, Medinet Habu. Sail to Esna. Dahabeya-1
Day 9, Mon: Esna Temple. Sail to Edfu. Dahabeya-2.
Day 10, Tues: Edfu Temple. Sail to Silsila Mountain. Dahabeya-3.
Day 11, Wed: Silsila Quarries & Horemheb Temple, Kom Ombo Temple. Sail to Aswan. Dahabeya-4.
Day 12, Thurs, Aswan Unfinished Obelisk, Abu Simbel Temples. Aswan hotel-1.
Day 13, Friday: Philae Isis Temple. Flight Aswan/Cairo. Cairo hotel-1.
Day 14, Sat: Cairo Egyptian Museum. Farewell Dinner. Cairo hotel-2.
Day 15, Sun: Departure flights.