Day-by-Day Itinerary
"Highlights of Ancient Egypt"
Egypt in One Week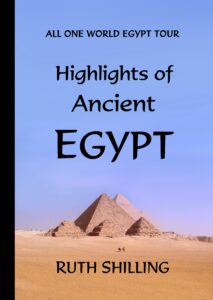 BRIEF Day-by-Day ITINERARY • FULL ITINERARY • PRICES • REGISTRATION FORM
TWO ARRIVAL OPTIONS: 6-day Tour & 7-day Tour
Choose the DATES THAT SUIT YOU. Minimum: 4 Travelers
6-day Tour, Arriving in Cairo from
Washington, DC (MS 982) at 4:30am on SUNDAYS
or New York, JFK (MS 986) at 4:40am on SUNDAYS

NOTE: This tour itinerary is designed to accommodate travelers flying nonstop from Washington, DC-Dulles & NY-JFK (USA) to/from Cairo.
Because this flight arrives on Sunday at about 4:30am, their tour begins on that day. Their departure is Friday at 11:55pm, so that is their final day.
Price: $3,295 per person in double occupancy, 6 days/5 nights
Price: $3,595 per person in single occupancy, 6 days/5 nights
7-day Tour, Arriving on SATURDAYS
THOSE WHO ARE NOT ARRIVING FROM NEW YORK or WASHINGTON need to ARRIVE on SATURDAY.
Those travelers will have one hotel night upon arrival. They may also need to add another hotel night at the end (the final FRIDAY night).
Price: $3,395 per person in double occupancy, 7 days/6 nights
Price: $3,695 per person in single occupancy, 7 days/6 nights
Pay $1,000 USD Deposit*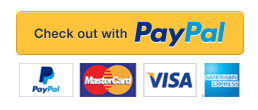 ————-
Friday, March 10, 2023: Departures from home for travelers from the USA, Canada, or Australia who are not leaving from Washington, DC.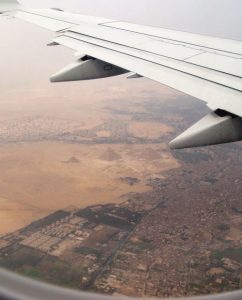 If you are traveling from places other than New York or Washington, DC, USA, the departure date for your international flights is Friday, March 10, 2023. Cairo is 7 hours ahead of New York, 10 hours ahead of California. Your flights will arrive in Cairo on the following day (Saturday, March 11). The other nonstop flight from the USA to Egypt is JFK/Cairo on Egypt Air which departs in the afternoon from the US and arrives in Cairo around noon the next day. International flights are not included in your tour. Flights within Egypt – Cairo/Luxor and Aswan/Cairo – are included.
Note that the Real ID requirement for US domestic flights does not go into effect until May 7, 2025.

DAY 1 – Saturday, March 11, 2023: Arrivals in Cairo for those who are not arriving from Washington, DC, USA on MS 982.
Hotel: Le Meridien Cairo Airport or similar. Meals: none.
Welcome to Egypt! A representative will meet you at Cairo airport and bring you to our hotel and get you checked in. Dinner is on your own.
US, UK, and Canadian citizens do not need to obtain a visa for Egypt in advance. Tourist visas are issued upon arrival at Cairo airport. Obtaining a visa online is not recommended. There are a number of scam websites offering this service.
* NOTE: The EXPIRATION DATE on your passport needs to be after September 11, 2023, which is 6 months after your arrival in Egypt. Also note that the Real ID requirement deadline for US citizens has been extended to May 7, 2025.
DAY 2 – Sunday, March 12: Saqqara – Step Pyramid, Teti Pyramid, Old Kingdom tombs. Flight from Cairo to Luxor.
Hotel: Luxor Hilton Hotel or similar. Luxor hotel night #1. Meals: BB, L.
After the travelers arrive on the 4:30am flight from Washington, DC or New York, we enjoy a large buffet breakfast together at the hotel. Then it is time to start our explorations of Egypt! Leaving Heliopolis (where the airport is), we drive southward through the fertile farmlands to reach Saqqara, a site from Ancient Egypt's Old Kingdom (2,575-2,150 B.C.). Here we find the Step Pyramid of Zoser (also spelled Djoser) which is dated even older than the pyramids at Giza. There are also some other Old Kingdom pyramids and tombs from the Old Kingdom that show us scenes from the daily life of people almost 5,000 years ago!
Note that the Imhotep Museum here at Saqqara is now closed.
We have a late lunch in the Saqqara area before taking the trip back to Cairo airport where we board our flight to Luxor. Here we settle into our hotel for the next three nights.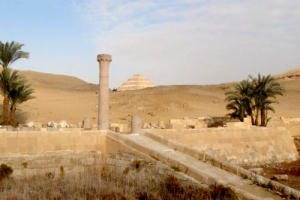 UNAS VALLEY TEMPLE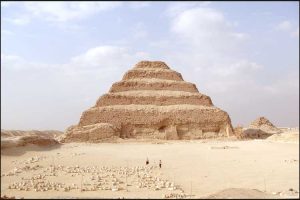 STEP PYRAMID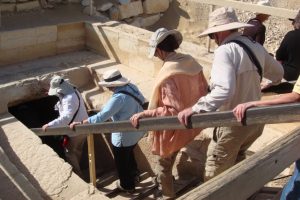 TETI PYRAMID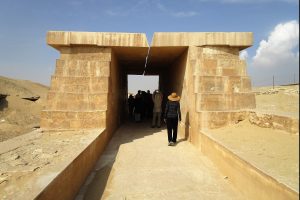 UNAS CAUSEWAY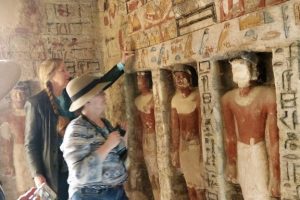 SAQQARA TOMB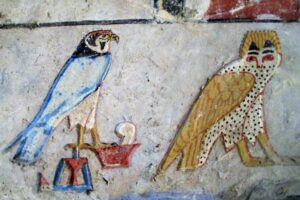 SAQQARA TOMB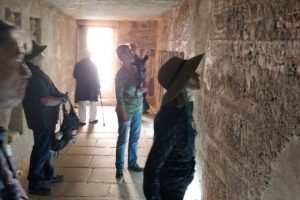 SAQQARA TOMB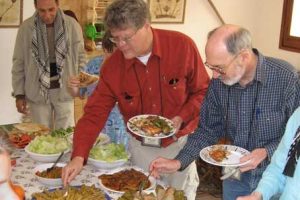 COUNTRYSIDE Lunch
DAY 3 – Monday, March 13: Karnak Temple Complex, Luxor Temple. Shopping: Papyrus, jewelry.
Hotel: Luxor Hilton Hotel or similar. Luxor hotel night #2. Meals: BB, L
Today, we begin our sightseeing in Luxor with the many sights here from the New Kingdom (1550-1069 BCE) about 1,000 years after what we saw at the Saqqara Complex yesterday. Luxor has been a tourist attraction from long before the New Testament era. Even the Greeks looked to Egypt as the place of great wisdom and were enthralled by the temple ruins they found there.
Karnak was the center of government during the New Kingdom and each pharaoh wanted to leave something impressive there. The largest temple complex in Egypt, we see multiple temples, obelisks, great gates, and the famous hypostyle hall – unequaled to this day. We also see the Sacred Lake, the Festival Hall and Botanical Garden of Tutmosis III (a precursor of Napoleon's later record of the fauna and flora found in Egypt). There is so much to see here!
Also at Karnak, we visit the fascinating Open Air Museum where we view the Red Chapel of Hatshepsut and Tutmosis III (Karnak's original Holy of Holies) and Senwosret's White Chapel with its finely-carved Middle Kingdom hieroglyphs. These are in raised relief – some of the best to be found anywhere. There is something new each time we visit, as the reconstruction of new pieces is ongoing.
After lunch, there is time to see how the first paper was created out of the papyrus plants that grew in the swamp areas of Ancient Egypt. You can also have your name painted on a papyrus by a local artist. We'll also visit a jewelry shop where there are beautiful reproductions of pieces that were found in the tombs of pharaohs like King Tut.
In the late afternoon, we visit the Luxor Temple when the lighting is optimal for seeing the wall reliefs. Both gently beautiful and full of awesome grandness, this temple was the "Bride of Karnak" during the annual Apet festival. There is an Avenue of Sphinxes that connects Luxor Temple with Karnak temple and it is one of the newly opened attractions! You may have seen the extravagant ceremony that was broadcast recently when it opened. Youtube video.
Dinner is on your own this evening at our hotel. There are multiple options. You can dine outside beside the Nile or listen to music indoors.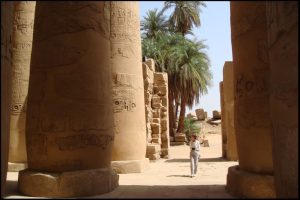 HYPOSTYLE HALL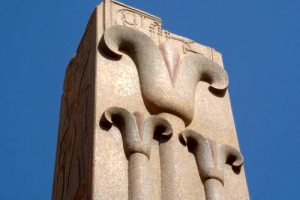 KARNAK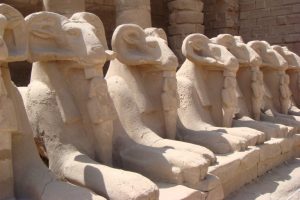 KARNAK SPHINXES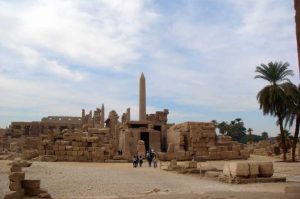 KARNAK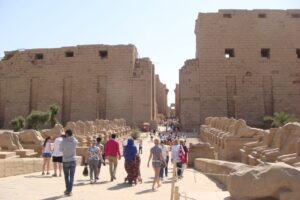 KARNAK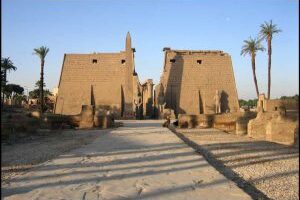 LUXOR TEMPLE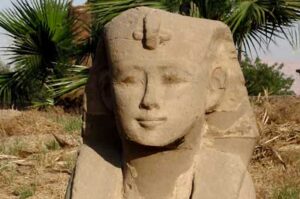 LUXOR SPHINX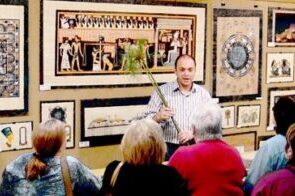 PAPYRUS DEMO
DAY 4 – Tuesday, March 14: Luxor West Bank sites – Tomb of Queen Nefertari (Valley of the Queens), Valley of the Kings, Hatshepsut's Deir El Bahari Temple, and the Colossi of Memnon. Shopping: Alabaster Shop.
Hotel: Luxor Hilton Hotel or similar. Luxor hotel night #3. Meals: BB, L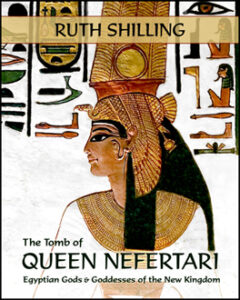 Today we have a very special treat. The Tomb of Queen Nefertari has now been opened to the public! There is a hefty entrance fee (about $85 USD), but that has been included in your tour. The beauty of this tomb is incomparable, literally breathtaking. Images from this tomb, with its many depictions of the gods and goddesses, are found in all the well-known books of Egypt. What an opportunity to see it ourselves up close! Ruth Shilling (your tour leader!) has authored a book with many beautiful photos of this tomb. See it on Amazon.
Next, we visit the most famous archeological site in the world, the Valley of the Kings, where King Tut's tomb was found. There are many tombs here, and excavations are still going on, as well as renovations to tombs that have been uncovered for a long time. One never knows which tombs will be open that day, but there will be a variety to choose from. The special ticket for the remarkable Tomb of Ramesses V&VI is included in your tour, in addition to 3 other tombs of your choice. This is the tomb you may have seen with the spectacular scene of the sky goddess Nut arched across the ceiling.
For lunch, we are hoping to visit a family who are friends of Ruth on the West Bank of Luxor. If they are not able to host us that day, we will eat at a nearby restaurant.
In the afternoon, we visit one of the earliest New Kingdom temples. Called "The Most Splendid of All" by the ancient Egyptians. Queen Hatshepsut's Temple, the famous Deir El Bahari, has inspired many, including the founders of modern architecture. One of the outstanding features is the picturesque Hathor columns in the Hathor Chapel on the second Level. The third level has now also been opened to the public.
Here on the West Bank of Luxor are workshops for alabaster statues, figurines, and other assorted items made in stone. We will stop at one of these workshops to see their handiwork.
Our last site today is the "Colossi of Memnon." They are actually two huge statues of Amenhotep III which stood at the entrance to a temple which no longer stands. During our first tours of Egypt, there were fields of grain behind these statues. Today it is an active archeological site with new artifacts being discovered on a regular basis.
Dinner is on your own at the hotel.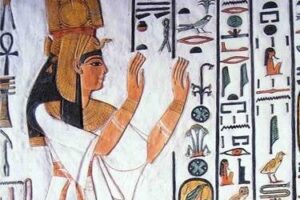 TOMB OF NEFERTARI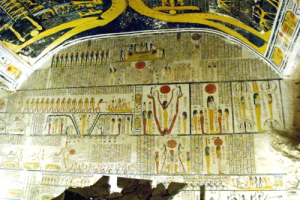 kv – RAMESSES v&vi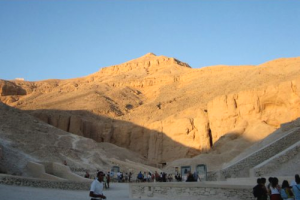 VALLEY OF THE KINGS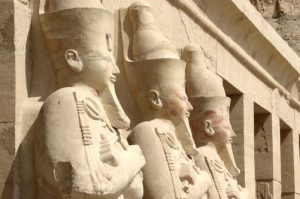 HATSHEPSUT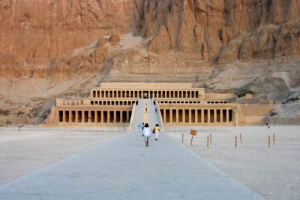 DEIR EL BAHARI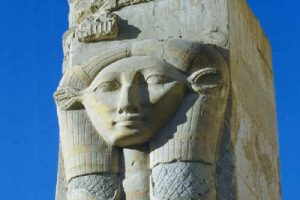 HATHOR CHAPEL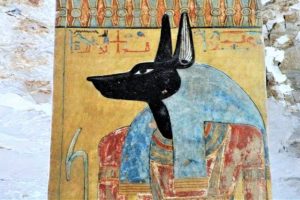 Valley of the kings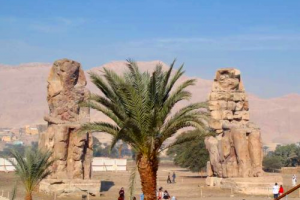 COLOSSI OF MEMNON
DAY 5 – Wednesday, March 15: Check out of our Luxor hotel. Travel to Aswan by road. Stop to visit the Esna Temple on the way. Lunch in Aswan. Afternoon visit to the Temple of the Goddess Isis at Philae.
Hotel: Basma Hotel, Aswan or similar. Meals: BB, L.
On our first day of sightseeing, we saw pyramids and tombs from the Old Kingdom at Saqqara. While in Luxor, we saw temples and tombs from the New Kingdom. Today we move forward another 1,000 years in time to see two temples from Egypt's Greco-Roman era.
The Temple at Esna was built by Ptolemy III and is dedicated to the god Khnum, as well as the goddesses Neith, Satet, and Menhet. Khnum was the god who created people's two bodies out of clay on his potter's wheel — one for the person's physical body and one for his Ka. They are in the process of cleaning and restoring this temple. An impressive astrological ceiling is being revealed. The scenes that were once just black lumps on the walls, pillars, and ceiling have now been cleaned and reveal some stunning artwork. It is truly a privilege to be some of the first people in the post-Christian era to witness these.
After lunch in the southern city of Aswan, we have another treat. We travel by motorboat to a nearby island to see the gloriously beautiful Temple for the Goddess Isis at Philae. This temple was partially submerged when the Low Dam was constructed (1899-1902) by the British. With the construction of the High Dam (1959-1970), it would have been underwater completely. Thankfully, it was moved to higher ground on a neighboring island and its beauty continues to shine.
This was the last temple where the Ancient Egyptian religion was practiced. It remained in operation well into the Christian era. It was closed in 537 AD by the Roman Emporer Justinian I. Late afternoon is the perfect time to visit and soak in the beauty here.
Our hotel tonight is on a high hill overlooking all of Aswan. Throughout all of the Ancient Egypt eras, Aswan was the center of trade between Africa to the south and the Mediterranean countries to the north. Even today, it is famous for its spice trade and hosts a colorful bazaar with many small shops. You might like to try your hand at some bargaining there or visit the Nubian Museum this evening.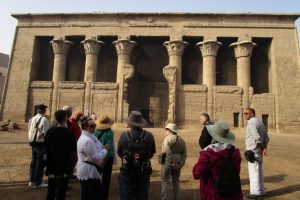 eSNA TEMPLE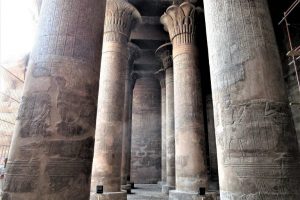 ESNA TEMPLE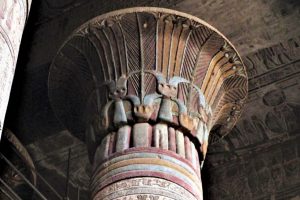 ESNA TEMPLE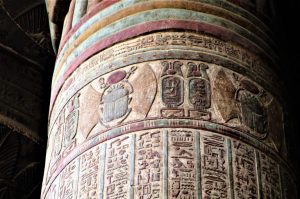 ESNA TEMPLE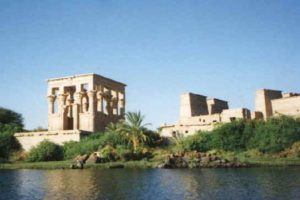 PHILAE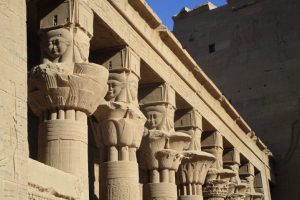 HATHOR COLUMNS AT PHILAE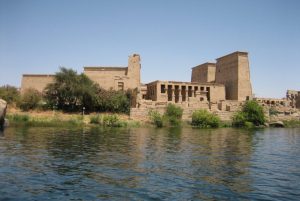 PHILAE ISIS TEMPLE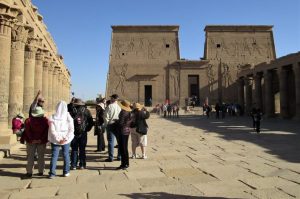 ISIS TEMPLE
DAY 6 – Thursday, March 16: The Unfinished Obelisk of Hatshepsut at the Aswan Granite Quarry, a day-long journey by road to see the Abu Simbel Temples. Flight from Aswan to Cairo.
Hotel: Le Meridien Cairo Airport or similar. Meals: BB, L, D
After checking out of our hotel, we begin our day with the Unfinished Obelisk of Hatshepsut. Although the fact that it cracked before it could be removed was a disaster in ancient times, it is a wonderful opportunity for us in modern times to see how the obelisks were created.
Next, we begin the drive on the desert road to Abu Simbel. The two large temples there were built by Ramesses II and were carved into the cliff itself. The smaller temple is for the Goddess Hathor and was dedicated to his queen, Nefertari. The Abu Simbel Temples were made famous when the high dam was constructed and they were soon to be submerged under the new lake, Lake Nasser. A UNESCO international effort saved the temples by moving them to higher ground.
We fly back to Cairo in the evening. Our hotel there is conveniently located right at the Cairo airport for an easy arrival this evening and also when we depart for home tomorrow or Saturday.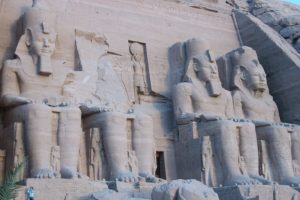 ABU SIMBEL-RAMESSES II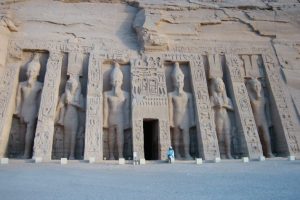 NEFERTARI TEMPLE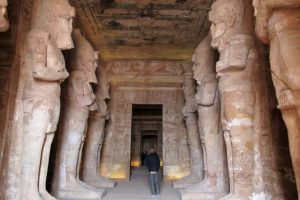 RAMESSES II TEMPLE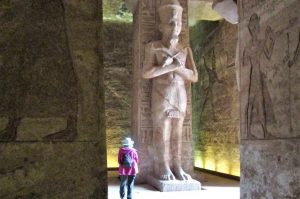 RAMESSES II TEMPLE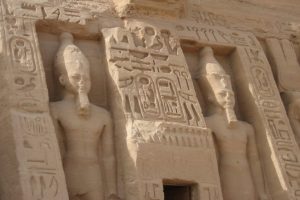 NEFERTARI HATHOR TEMPLE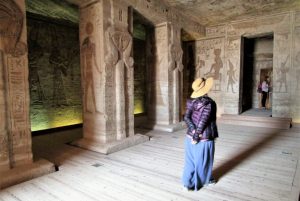 NEFERTARI HATHOR TEMPLE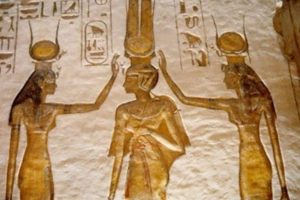 NEFERTARI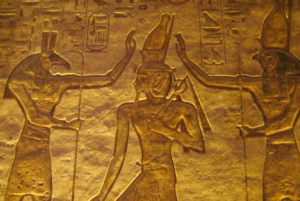 RAMESSES II
DAY 7 – Friday, March 17: Giza Plateau – Giza Pyramids, Sphinx, Valley Temple, camel ride (not obligatory). Cairo Egyptian Museum. Departures home by those taking the 10:55pm nonstop flight to Washington, DC.
Hotel: Le Meridien Cairo Airport or similar (for those not departing tonight). Meals: BB, L, D.
Today we visit the famous Giza Plateau (what most people mean when they simply say "the pyramids"). You can go inside whichever pyramids are open. Of the three pyramids, two are usually open while one is closed for renovations – dates are not announced in advance. Tickets for entering the individual pyramids are not included in your tour package but can be purchased that day. Costs: about $18 USD (Great Pyramid) and $5 USD (2nd or 3rd pyramids).
We will also see the Great Sphinx & Valley Temple. There are legends of the Sphinx speaking. Does the Sphinx have a message for you? The Valley Temple is built with huge granite blocks that fit together snugly even today, almost 5,000 years later. Some think it is even older than that!
Camel rides for the adventurous (optional). Camel videos HERE.
*Note: The Solar Boat Museum that used to be beside the Great Pyramid has been demolished. The Solar Boat was moved to the new Grand Egyptian Museum for restoration. The opening date of that museum has not been set yet.
After lunch, we journey into downtown Cairo where the treasures of King Tut are still on display at the Cairo Egyptian Museum.
It's hard to believe our time has reached an end. We have a final dinner together before preparing to go our separate ways. Some people will fly home tomorrow morning, but there will be some people who have flights leaving tonight.
Farewell Egypt! You will continue to live in our hearts!
GIZA PLATEAU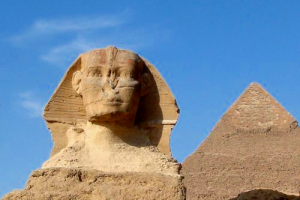 GREAT SPHINX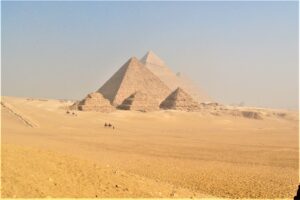 SIX PYRAMIDS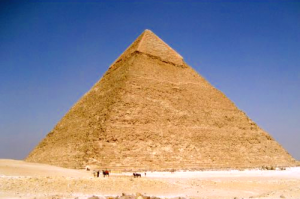 KHAFRE Pyramid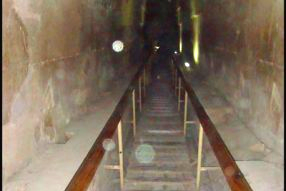 GRAND GALLERY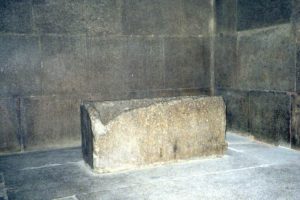 Kings Chamber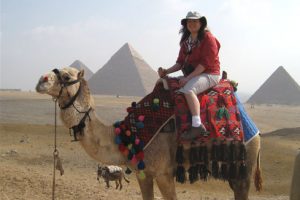 Camel Ride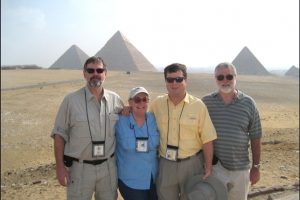 Giza Pyramids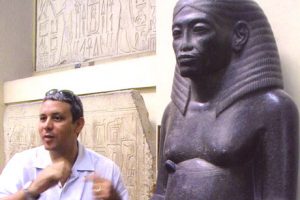 EGYPTIAN MUSEUM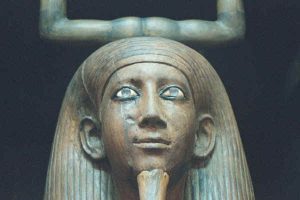 EGYPTIAN MUSEUM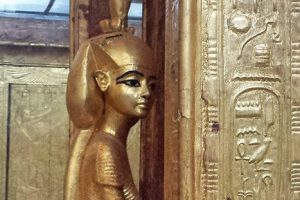 EGYPTIAN MUSEUM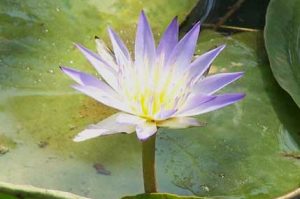 EGYPTIAN MUSEUM
DAY 8 – Saturday, March 18, 2023: Departure Day, flights home or Free Day.
Meals: BB.
Breakfast is included this morning at the hotel for those who added an extra night. Each person can leave at a time that is convenient for them. The hotel is right within the airport perimeter and there is a shuttle that will take you to whichever terminal you need to leave from. You can also add additional activities today before leaving.
———-