Day-by-Day Itinerary
"Time & Space in the Temples & Pyramids"
16-Day In-depth Egypt Tour
Small Group Tour: Limited to 10 Participants
Sunday-Monday, Nov 12-27, 2023 = SOLD OUT =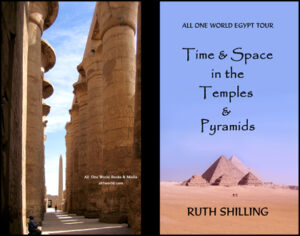 TOUR BOOK for This Tour: Available on Amazon.com
November 11, 2023 and February 3, 2024: Departures from home for travelers from the USA, Canada, or Australia.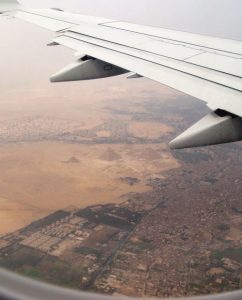 * NOTE: The EXPIRATION DATE on your passport needs to be after May 14, 2024 for the November 2023 Tour which is 6 months after your arrival in Egypt. US, UK, and Canadian citizens do not need to obtain a visa for Egypt in advance. Tourist visas are issued upon arrival at Cairo airport. Cost is $25 USD. You can also obtain a visa online (onine is not recommended, there are a number of scam sites).
If you are traveling from places other than the UK or Europe, the departure date for your international flights is Saturday, November 11th. Cairo is 7 hours ahead of New York, 10 hours ahead of California. Your flights will arrive in Cairo on the following day (Sunday, Nov 12). The only nonstop flights from the USA to Egypt are Washington-Dulles/Cairo on Egypt Air (arrives at 4:30am) and New York-JFK/Cairo with Egypt Air (arrives 4:40am). International flights are not included in your tour. Flights within Egypt – Cairo/Luxor and Aswan/Cairo – are included.
Note that the Real ID requirement for US domestic flights does not go into effect until May 7, 2025.

DAY 1 – Sunday, November 12, 2023: Arrivals in Cairo. Welcome meeting, Dashur – Red & Bent Pyramids, Memphis.
Hotel: Giza hotel nIght #1. Meal: BB, L.
On November 12, 2023, those flying nonstop from JFK, NY (MS 986) arrive in Cairo at 4:40am. Those flying nonstop from IAD, Washington-Dulles (MS 982), arrive in Cairo at 4:30am.
On February 4, 2024, those flying nonstop from JFK, NY (MS 986) arrive in Cairo at 4:40am. Those flying nonstop from IAD, Washington-Dulles (MS 982), arrive in Cairo at 5:20am.
Welcome to Egypt! A representative will meet you at Cairo airport and bring you to our hotel.
After the early-morning arrivals have joined us and we all have had breakfast together at the hotel at the Cairo Airport, we have a short Welcome Meeting and begin our sightseeing with sites from Ancient Egypt's Old Kingdom (2,575-2,150 B.C.). We drive southward through fertile farmlands to the pyramids at Dashur, dated even older than the pyramids at Giza! It is also a chance to begin savoring the riches of Egypt without huge crowds and souvenir sellers.
We spend time inside the Red Pyramid (nearly as large as Giza's Great Pyramid) and then have the opportunity for an unforgettable walk across the open desert to the Bent Pyramid. The desert is rich with inspiration and the vastness is exhilarating. The Bent Pyramid was a key center of worship during the Middle Kingdom and was much more important than Giza at that time. The Bent pyramid is the only pyramid to retain most of its original casing stones. The Black Pyramid (Middle Kingdom mud brick) can also be seen from here.
After lunch in the Sakkara area, we visit the ancient capital city of Memphis. This was constructed of mudbricks so not much remains, but there are some interesting artifacts on display – the Alabaster Sphinx, the huge fallen statue of Ramesses II, and a number of other statues.
Then we are off to the Giza Pyramids where we check into our hotel with its spectacular views of the pyramids and Sphinx!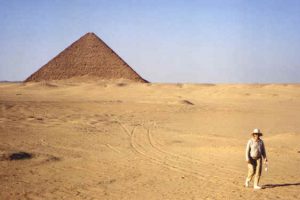 Red Pyramid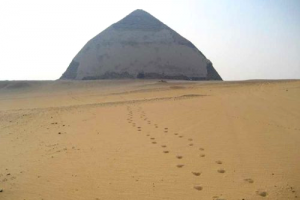 Bent Pyramid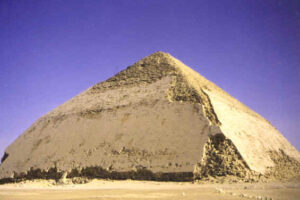 BENT Pyramid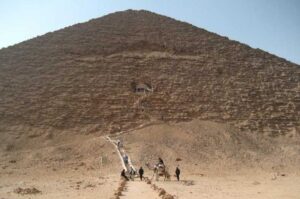 RED Pyramid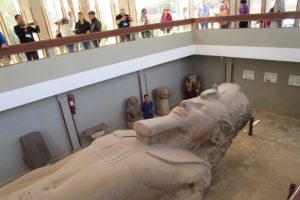 MEMPHIS – RAMESSES II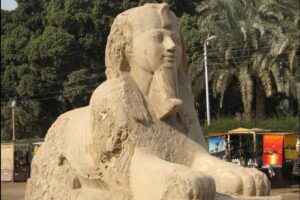 ALABASTER SPHINX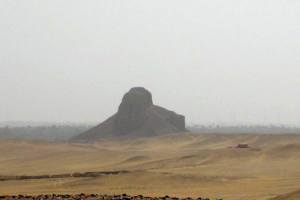 Black Pyramid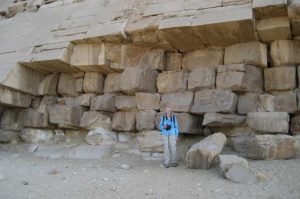 Bent Pyramid
DAY 2 – Monday, Nov 13, 2023: Giza Plateau – Great Pyramid, Sphinx, Valley Temple, camel ride (not obligatory), Khafre or Menkaure Pyramid. Private Great Pyramid visit in the evening.*
Hotel: Giza hotel night #2. Meals: BB, L
Today we spend a full day on the Giza Plateau. You can go inside whichever pyramids are open. Of the three pyramids, two are usually open while one is closed for renovations – dates are not announced in advance. Tickets for entering the individual pyramids are included in your tour package.
We will also see the Great Sphinx & Valley Temple. There are legends of the Sphinx speaking. Does the Sphinx have a message for you? The Valley Temple is built with huge granite blocks that fit together snugly even today, almost 5,000 years later. Some think it is even older than that!
Camel rides for the adventurous (no additional fee). Camel videos HERE.
For those who like to shop, after lunch there is a visit to a perfumery with Egyptian perfume oils.
*Note: We are applying for a special government-issued permit which will allow us to have a private visit for our group alone in the Great Pyramid after the other tourists have left for the day or in the early morning before they arrive. We have every reason to believe that we will receive this permission, as we have on our previous tours. However, we cannot guarantee this because government policies can change unexpectedly.
Also note that the Solar Boat is no longer on the Giza Plateau but has been moved to the new museum (GEM) for restoration.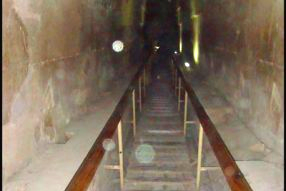 GRAND GALLERY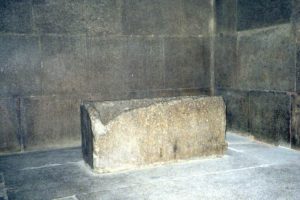 Kings Chamber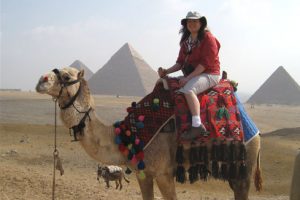 Camel Ride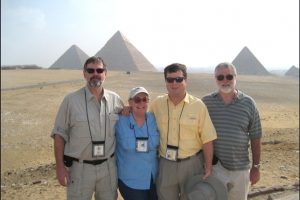 Giza Pyramids
GIZA PLATEAU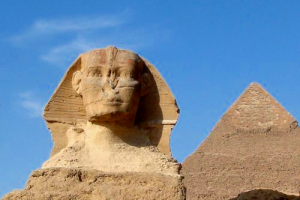 GREAT SPHINX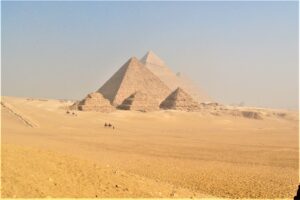 SIX PYRAMIDS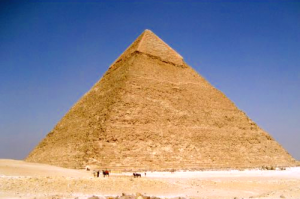 KHAFRE Pyramid
DAY 3 – Tuesday, Nov 14, 2023: Saqqara: Step Pyramid, Unas Pyramid, New Kingdom Tombs, Old Kingdom Tombs, Teti Pyramid, Serapeum. Check out of our hotel, flight from Cairo to Luxor.
Hotel: East Bank Hotel, night #1. Meals: BB, L, D.
On our way to Saqqara, we drive through the Black Land where the people have farmed the rich Nile silt for thousands of years.
Our sightseeing will be at the Saqqara Complex (also spelled Sakkara) today. Three treats for our previous travelers are that a passage under the Step Pyramid has been opened, as well as the Southern Tomb (these were never open before). And the famous Pyramid of Unas is now open, too. So, of course, they are all included in our tour!
Before the morning is over, we see some of the New Kingdom Tombs in the Southern Cemetary.
After lunch at a nearby restaurant, we return again to Saqqara, this time visiting the sites on the northern side. Here we find the Teti Pyramid and some Old Kingdom tombs with fascinating scenes of the daily life in Ancient Egypt's Old Kingdom (the ones which are open varies).
Our final visit is to the Serapeum, a place shrouded in mystery. We may also stop to see some of the local carpet weavers, if people are interested.
Dinner together near Cairo Airport before our departure.
Note that the Imhotep Museum here at Saqqara is now closed.
Evening flight to Luxor.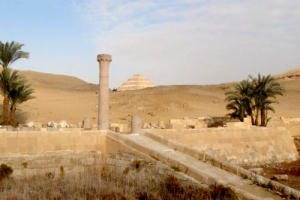 UNAS VALLEY TEMPLE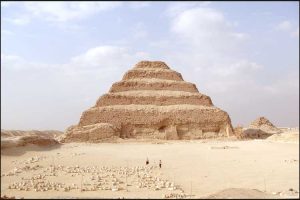 STEP PYRAMID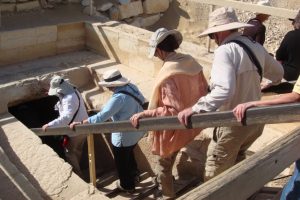 TETI PYRAMID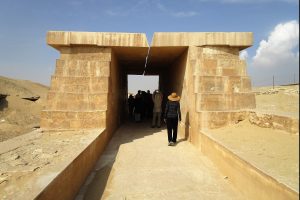 UNAS CAUSEWAY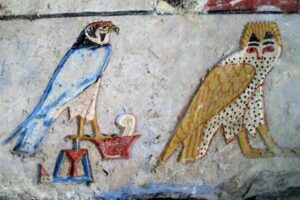 SAKKARA TOMB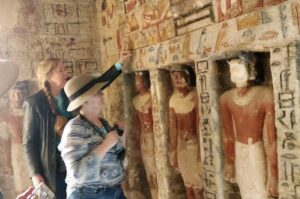 SAKKARA TOMB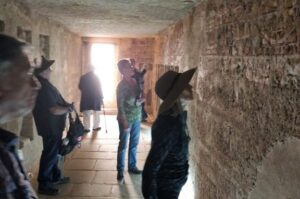 SAKKARA TOMB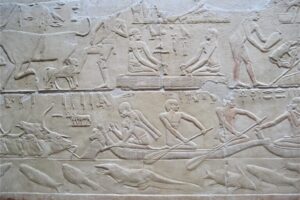 MERERUKA TOMB
DAY 4 – Wednesday: Luxor Temple, Luxor Museum, Luxor Bazaar.
Hotel: East Bank Hotel, night #2. Meals: BB, L
Welcome to Luxor! Luxor has been a tourist attraction from long before the New Testament era. The Greeks looked to Egypt as the place of great wisdom and were enthralled by the temple ruins they found there. We begin our visits here with the Luxor Temple. Both gently beautiful and full of awesome grandness, this temple was the "Bride of Karnak" during the annual Apet festival. There is an Avenue of Sphinxes that connects Luxor Temple with Karnak Temple and it is one of the newly opened attractions! You may have seen the extravagant ceremony that was broadcast recently when it opened. Youtube video.
Afterwards, we visit the Luxor Museum. There is a special exhibit room for a cache of statues found in near-perfect condition. They were buried under a courtyard at the Luxor Temple and found only recently during renovations. There is also a new wing to the museum with an excellent mummy exhibit and a number of splendid artifacts.
In the afternoon we visit a shop that sells jewelry with Egyptian motifs and a papyrus shop. We will also visit a local grocery store where we will get snacks and lunches to eat for our day-long bus trip to Abydos and Dendera tomorrow. If you enjoy bargaining and shopping, or just plain people-watching, you might enjoy a late-afternoon/evening visit to the Luxor Bazaar. Souvenirs, scarves, dresses, and more. You can even try smoking the shisha (flavored tobacco) in a water pipe.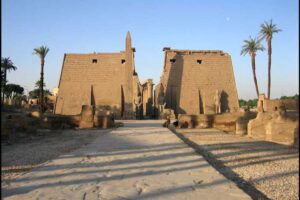 LUXOR TEMPLE MORNING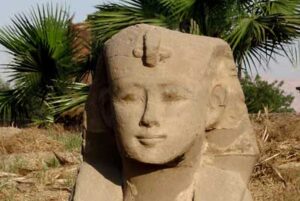 SPHINXES Avenue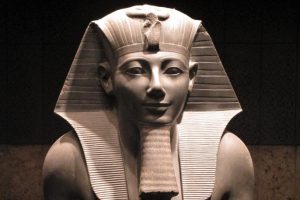 LUXOR MUSEUM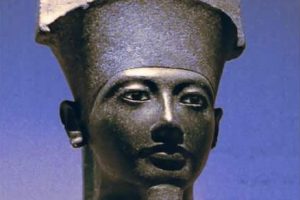 LUXOR MUSEUM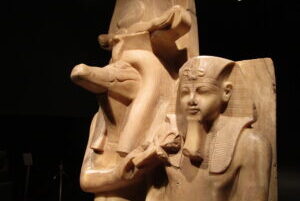 Luxor Museum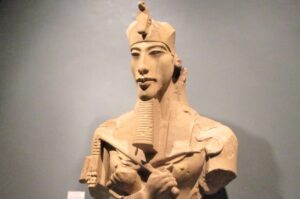 Luxor Museum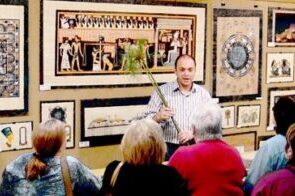 Papyrus Shop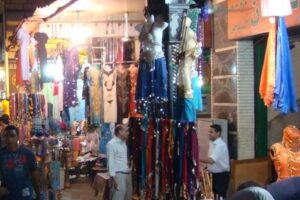 LUXOR STREET BAZAAR
DAY 5 – Thursday: Abydos – Seti 1 Temple, Ramesses II Temple. Dendera Hathor Temple.
Hotel: East Bank Hotel, night #3. Meals: BB, D. (lunch is on the bus)
Today we drive north of Luxor to Abydos, the place of pilgrimage in Ancient Egypt. Along the way, we see the hills of Nag Hammadi where the writings known as the Nag Hammadi Library were found (parts of the New Testament that were left out). Here in Abydos, we visit the exquisite Seti I Temple, the Ramesses II Temple, and the mysterious Osirion. The wall reliefs and pillared halls of the Seti 1st Temple contribute to the air of sacredness that pervades this site. This was the Mecca of Ancient Egypt and it continues to draw spiritual pilgrims to this day.
When we leave Abydos, we drive to the Hathor Temple at Dendera. This Ptolemaic (Greek) temple was built on the site of an older temple for the goddess Hathor. One of the outstanding features is the amount of astrological imagery. The temple is covered with representations of constellations and stars. This temple also introduces you to the elements of the Ptolemaic temples (which we will see more of when we sail south toward Aswan).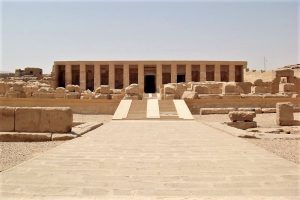 abydos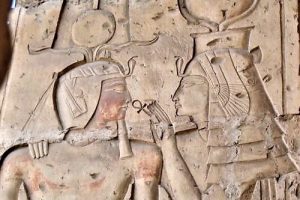 abydos
abydos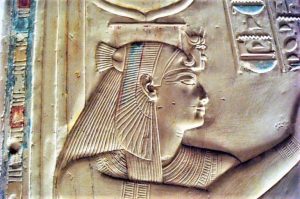 abydos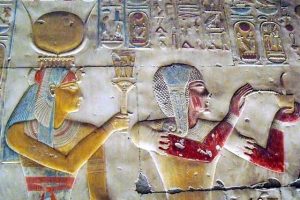 abydos
abydos KINGS LIST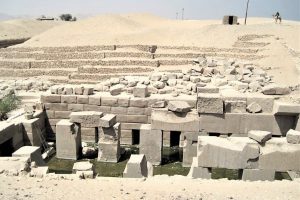 OSIRION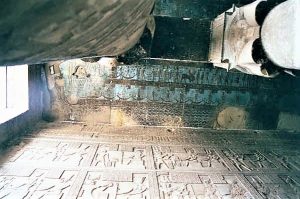 DENDERA
DAY 6 – Friday: Karnak Temple Complex with Open Air Museum. West Bank – Visit with Village Children.
Hotel: Luxor West Bank Hotel night #1. Meals: BB, L
The splendors of Karnak fill our day today. Karnak, Saqqara, and the Giza Pyramids are included in almost every Egypt tour, but the typical visit for each of these sites is about 45-60 minutes. We dedicated a whole day to the Giza pyramids, a whole day to the many sights at Saqqara, and we will do the same with Karnak. There is so much to see there!
Karnak was the center of government during the New Kingdom and each Pharaoh wanted to leave something impressive there. The largest temple complex in Egypt, we see multiple temples, obelisks, great gates, and the famous hypostyle hall – unequaled to this day. We also see the Sacred Lake, the Festival Hall and Botanical Garden of Tutmosis III (a precursor of Napoleon's later record of the fauna and flora found in Egypt).
Also at Karnak, we visit the fascinating Open Air Museum where we view the Red Chapel of Hatshepsut and Tutmosis III (Karnak's original Holy of Holies) and Senwosret's White Chapel with its finely-carved Middle Kingdom hieroglyphs. These are in raised relief – some of the best to be found anywhere. There is something new each time we visit, as the reconstruction of new pieces is ongoing.
In the late afternoon, we move to a small hotel on the West Bank of Luxor. This will make all our visits on the West Bank easier and give us a chance to feel the flavor of the lifestyle of the villages on the West Bank. We also hope to visit some village children there. After all our sightseeing, it is a delightful change of pace to spend time with them. Their exuberance and delight in making friends with us is a favorite part of the trip for many. Ruth brings school supplies and candy to share with the kids, and there is always lots of fun and playfulness when we visit.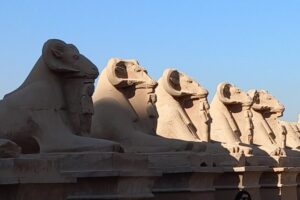 KARNAK SPHINXES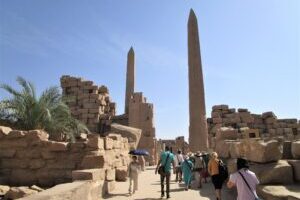 KARNAK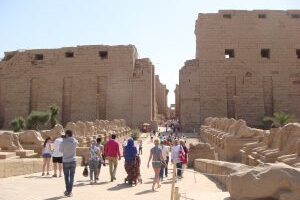 KARNAK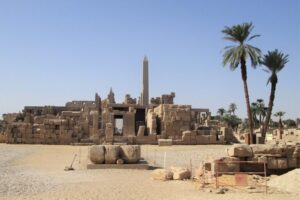 KARNAK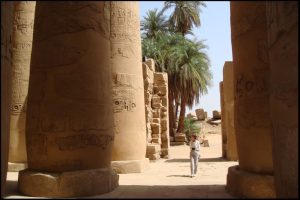 HYPOSTYLE HALL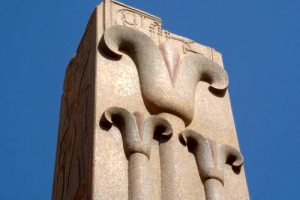 KARNAK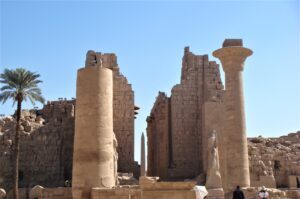 Karnak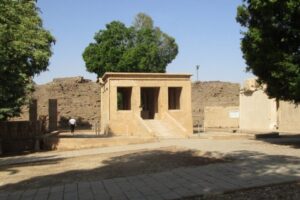 White Chapel – Karnak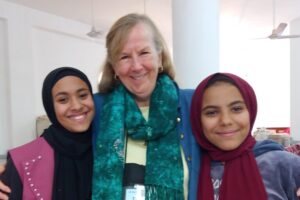 YOUNG FRIENDS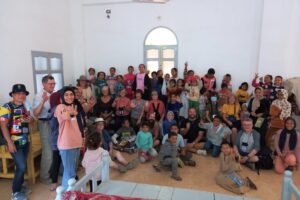 VISIT WITH KIDS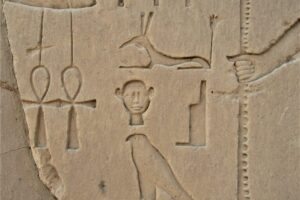 Karnak – White Chapel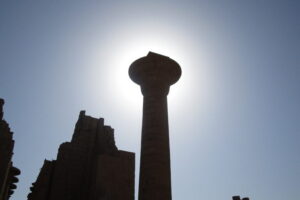 Karnak
DAY 7 – Saturday: OPTIONAL. Early morning option: Balloon Ride* over the West Bank.
TOURING: Luxor West Bank sites – Hatshepsut's Deir El Bahari Temple, the Colossi of Memnon, Valley of the Kings.
* The cost of the balloon ride is not included in your tour.
Hotel: Luxor West Bank Hotel, night #2. Meals: BB, L
If you don't mind getting up in the morning before sunrise, you might like to take the optional balloon ride this morning. We cannot guarantee the availability of this, as it is dependent on the weather (wind), but if you would like to try it you will feel like a drone flying over the West Bank.
We begin our touring here on the West Bank of Luxor with one of the earliest New Kingdom temples. Called "The Most Splendid of All" by the ancient Egyptians, Queen Hatshepsut's Temple, the famous Deir El Bahari, has inspired many, including the founders of modern architecture. One of the outstanding features is the picturesque Hathor columns in the Hathor Chapel on the second Level. The third level has now also been opened to the public.
We will also stop to see the "Colossi of Memnon." They are actually two huge statues of Amenhotep III which stood at the entrance to a temple that no longer stands. During our first tours of Egypt, there were fields of grain behind these statues. Today it is an active archeological site with new artifacts being discovered on a regular basis
Afternoon is the best time to visit the Valley of the Kings (where King Tut's tomb was found) because that avoids the large crowds of tourists from the Nile cruise boats. There are many tombs there, and excavations are still going on, as well as renovations to tombs that have been uncovered for a long time. One never knows which tombs will be open that day, but there will be a variety to choose from. The special ticket for the remarkable Tomb of Ramesses V&VI is included in your tour, in addition to 3 other tombs of your choice. This is the tomb you may have seen with the spectacular scene of the sky goddess Nut arched across the ceiling.
USE FULL SCREEN (bottom right square icon) to watch the video below of the burial chamber of Ramesses V&VI Tomb.
The Ceiling of the Burial Chamber of the Tomb of Ramesses V&VI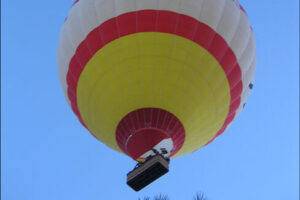 BALLOON RIDE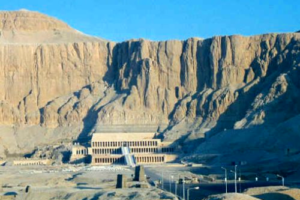 DEIR EL BAHARI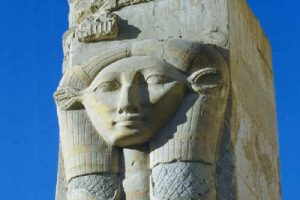 HATHOR CHAPEL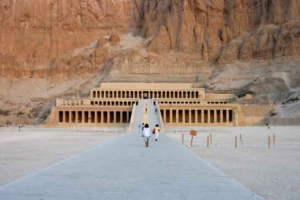 HATSHEPSUT'S TEMPLE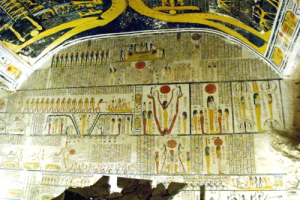 kv – RAMESSES v&vi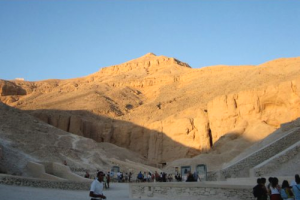 VALLEY OF THE KINGS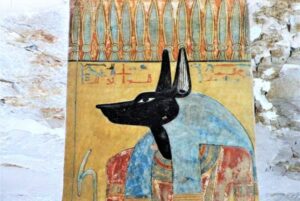 VALLEY OF THE KINGS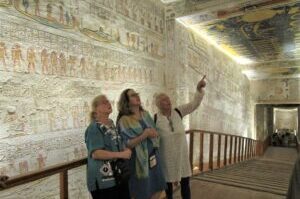 Valley of the Kings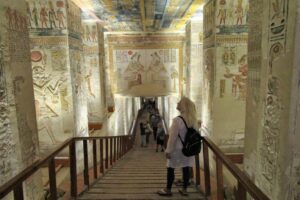 Valley of the Kings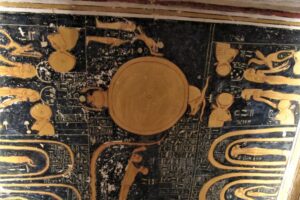 KV – Tomb Ceiling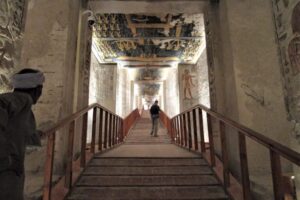 VALLEY OF the Kings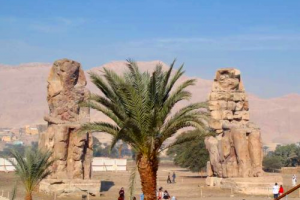 COLOSSI OF MEMNON
DAY 8 – Sunday: More Luxor West Bank sites – Tombs of the Nobles, Ramesseum Temple, Valley of the Workers.
Hotel: Luxor West Bank hotel, #3. Meals: BB, L
The rarely visited Ramesseum is a favorite of many of our travelers and a very good example of the New Kingdom Mortuary Temples. It is not too big and gives us a chance to learn the basic elements of the temples. There is a splendid hypostyle hall, an astrological ceiling, and some excellent wall reliefs in good condition. This is also where we find the fallen statue of Ramesses II which inspired a poem by Shelley.
In addition to the famous tombs of the kings and queens here on the West Bank, there are some impressive smaller tombs. The Nobles Tombs have some unique scenes of daily life and are quite fascinating. We will be visiting some of these today, depending on time and on which ones are presently open.
The rarely visited Ramesseum is a favorite of many of our travelers and a very good introduction to the New Kingdom Mortuary Temples. It is not too big and gives us a chance to learn the basic elements of the temples. There is a splendid hypostyle hall, an astrological ceiling, and some excellent wall reliefs in good condition. This is also where we find the fallen statue of Ramesses II which inspired a poem by Shelley.
Next, we visit the "Valley of Truth." This was the title given to the village where the workers lived who created all the amazing tombs and artwork that we will see on the West Bank. The layout of the village can still be seen and there are some beautiful, vibrantly colored tombs for these workers themselves which we will visit. The "patron saint" of these workers was the god Ptah. One of his titles was "The Lord of Truth," so this is why the Workers' Village had this name (see photo above).
Tomorrow we will start our own private dahabiya Nile Cruise after our morning sightseeing visits.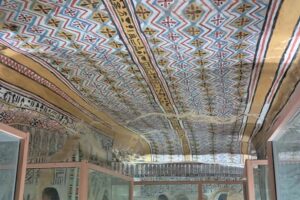 NOBLE'S TOMB
Noble's Tomb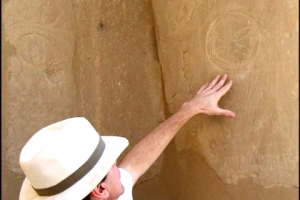 FLOWER OF LIFE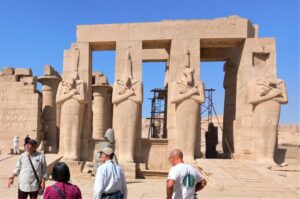 RAMESSEUM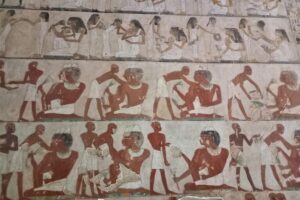 Noble's Tomb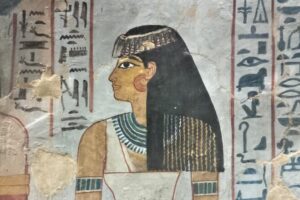 Noble's Tomb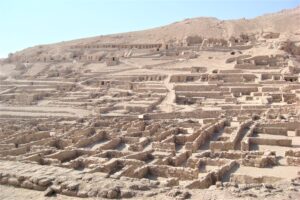 WORKERS' Valley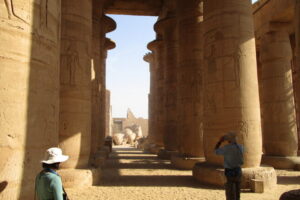 Ramesseum
DAY 9 – Monday: Tomb of Queen Nefertari, Medinet Habu. Sail to Esna.
Hotel: Sacred Lotus Dahabiya Nile Cruise Boat, #1. Meals: BB, L, D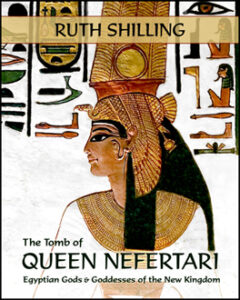 On our final morning in Luxor, we have a very special treat, the Tomb of Queen Nefertari! There is a hefty entrance fee (about $85 USD), but that has been included in your tour. The beauty of this tomb is incomparable, literally breathtaking. Images from this tomb, with its many depictions of the gods and goddesses, are found in all the well-known books of Egypt. What an opportunity to see it ourselves up close!
Ruth Shilling (your tour leader!) has authored a book with many beautiful photos of this tomb. See it on Amazon.
The Medinet Habu Temple was the last great temple built while Egypt was still ruling supreme. It was built as the Egyptian power in the New Kingdom was declining. Built by Ramesses III on a site seeded by Hatshepsut at the very beginning of the New Kingdom, it is second only to Karnak in size. There is a wonderful hall of pillars with colored reliefs of the many gods & goddesses of Ancient Egypt.
We say farewell to Luxor and board our own private Nile cruise or "Nile yacht." This size boat is called a "dahabiya" or "dahabeya." There are just 10 guest cabins, but we have a full staff – cooks to feed us wonderful meals, housekeeping to keep our cabins clean, and all the other staff people who are needed to keep the boat running smoothly. What a luxury! As we begin our journey up the Nile, the landscape begins to slowly drift by and we enjoy our first of many delicious meals on the boat (made just for us)!
The river flows from deep in Africa out to the Mediterranean Sea, so it is flowing from south to north. We are now traveling southward and will be stopping to see temples that were built by the Greek emperors a thousand years later. Tonight our boat docks in Esna.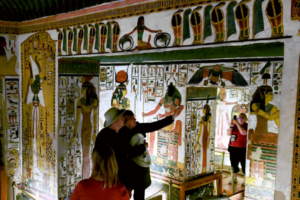 NEFERTARI TOMB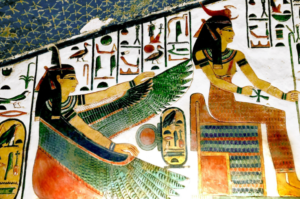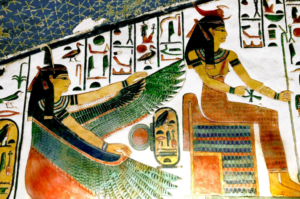 NEFERTARI TOMB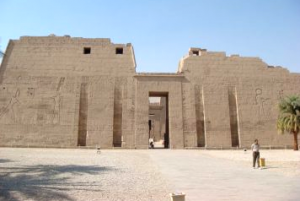 MEDINET HABU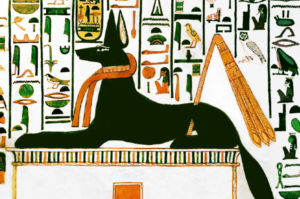 ANUBIS – NEFERTARI TOMB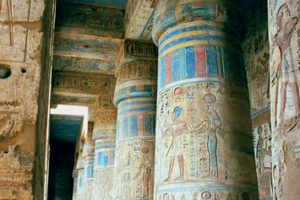 MEDINET HABU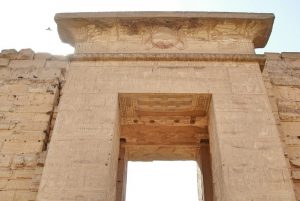 medinet habu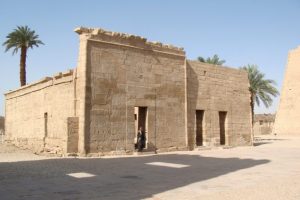 divine adoratrices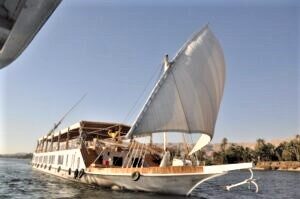 dahabIya
DAY 10 – Tuesday: Esna Temple, Esna lock, sailing to Edfu.
Hotel: Sacred Lotus Dahabiya Nile Cruise Boat, #2. Meals: BB, L, D.
Today we visit our second Greco-Roman temple – those that were built during the time the Greeks ruled Egypt (332 BCE – 30 BCE). The Edfu, Kom Ombo, and Philae Temples will also be from this era.
The Temple at Esna was built by Ptolemy III and is dedicated to the god Khnum, as well as the goddesses Neith, Satet, and Menhet. Khnum was the god who created people's two bodies out of clay on his potter's wheel — one for the person's physical body and one for his Ka. They are in the process of cleaning and restoring this temple. An astrological ceiling is being revealed.
Also here at Esna, we will be passing through the lock. The level of the Nile is regulated at this point in the river. We continue sailing on to Edfu where we dock for the night.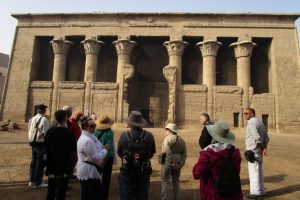 eSNA TEMPLE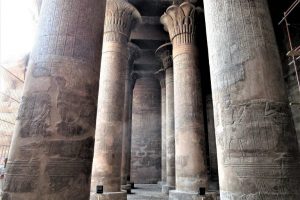 ESNA TEMPLE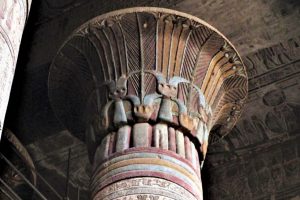 ESNA TEMPLE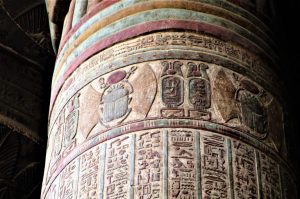 ESNA TEMPLE
NILE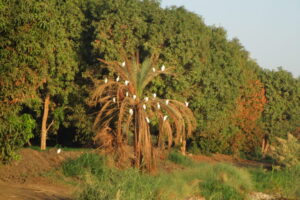 Nile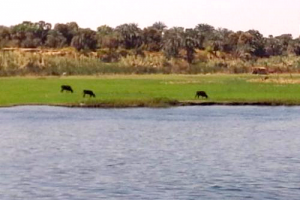 NILE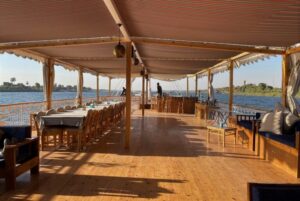 NILE DAHABIYA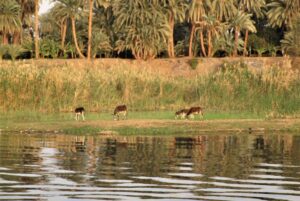 NILE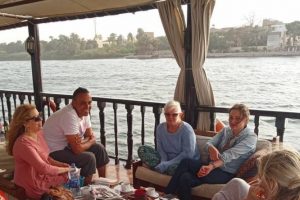 DAHABIYA CRUISE
NILE Dahabiya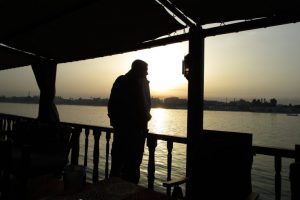 NILE DAHABIYA
DAY 11 – Wednesday: Edfu Temple, sailing to Silsila. Mountain
Hotel: Sacred Lotus Dahabiya Nile Cruise Boat., #3. Meals: BB, L, D.
The Edfu Temple is one of the best-preserved temples in Egypt. Built during the Ptolemaic era on an older site, it is dedicated to the god Horus. Horus was the original superhero. Even the word hero is derived from Heru, his name in the Ancient Egyptian language. He is the savior and redeemer, the one who fights for what is right. He is represented as a falcon (a type of hawk).
We continue sailing on to Silsila Mountain.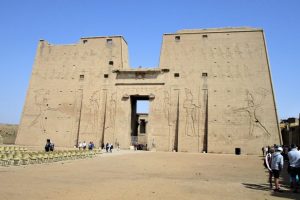 EDFU TEMPLE
HORUS AT EDFU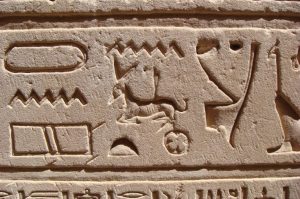 EDFU TEMPLE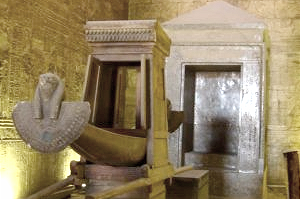 EDFU TEMPLE
DAY 12 – Thursday: Silsila Quarries with Horemheb Temple, Kom Ombo Temple.
Hotel: Sacred Lotus Dahabiya Nile Cruise Boat, #4. Meals: BB, L, D.
Our last day of sailing. We have one more day to let the gentle current of the Nile cleanse our bodies, minds, and souls. Being on the Nile is like time outside of time. Are we in Biblical times? The early 1900's? Is it really the 21st century? Could that be Agatha Christie I see there writing her next mystery novel? Do memories of earlier times and faces cross your mind?
We make a visit to the Temple of Horemheb at Silsila, a site not easily accessible and certainly impossible to visit with a large cruise boat. Such a visit is more the way it would have been for Egypt travelers in the past. No vendors hawking their wares, no automobiles or buses. This site is also where many of the huge stones used in building the temples we have seen were quarried. The scale of such an operation is quite striking when one sees where the stones originated.
The Kom Ombo Temple sits high on a hill above the Nile. It's a special feeling when we approach it. This temple has two parallel entrances, one for each of the deities it honors. Sobek was a crocodile god and Haeoris was an aspect of the hawk-god Horus.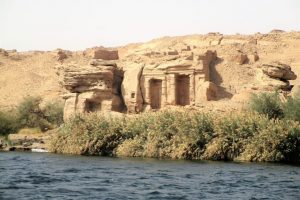 SILSILA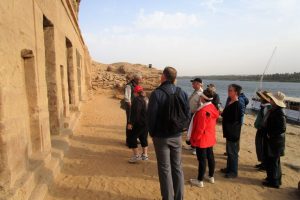 HOREMHEB TEMPLE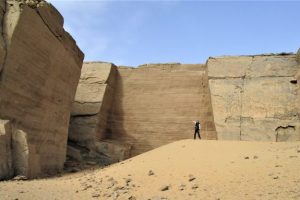 SILSILA QUARRY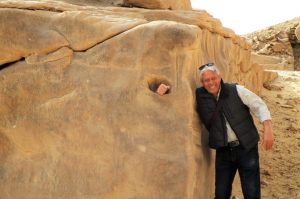 SILSILA BOAT TIE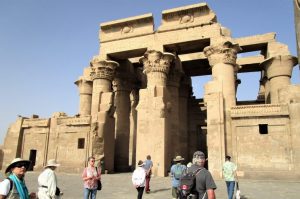 KOM OMBO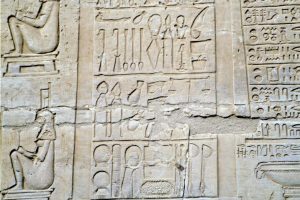 MEDICAL TOOLS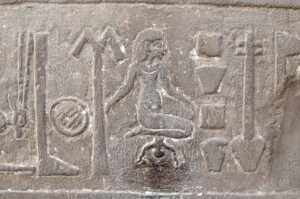 GIVING BIRTH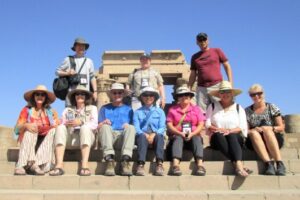 KOM OMBO
DAY 13 – Friday: OPTIONAL: Abu Simbel Temples by road.*
TOURING: Aswan – Elephantine Island, spice shop, Aswan marketplace, overnight in Aswan.
Hotel: Basma Hotel or similar. Meals: BB, L.
* The cost of the day-long trip to Abu Simbel is not included in your tour.
OPTIONAL ABU SIMBEL by road, approx. $180 USD (not included):
Those choosing this option leave our dahabiya in the morning and begin the day-long trip to Abu Simbel. The Abu Simbel Temples were made famous when the high dam was constructed and they were soon to be submerged under the new lake, Lake Nasser. A UNESCO international effort saved the temples by moving them to higher ground. The two large temples of Abu Simbel (constructed by Ramesses II) were carved into the cliff itself. The smaller temple is for the Goddess Hathor and was dedicated to his queen, Nefertari.
THOSE NOT CHOOSING THE ABU SIMBEL OPTION:
Checking out of our dahabiya after breakfast, we journey into Aswan where we visit the archeological site on Elephantine Island. This is a particularly interesting site because it has things to see from the early dynasties right through the next 3,000 years. There is also a small museum with some of the artifacts.
After lunch in Aswan, we will have time for some shopping. There is an interesting spice shop and you can try your hand at bargaining in the local street bazaar with its multiple small shops. All during Ancient Egypt, Aswan was the center of trade between Africa to the south and the Mediterranean countries to the north.
Our hotel tonight is near the center of Aswan. We arrive in the late afternoon and you may decide to enjoy the sunset from the terrace with a glass of wine or beer.
In the evening you might like to visit the Nubian Museum (optional) which is across the street from the hotel.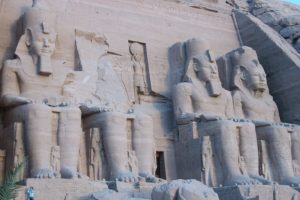 ABU SIMBEL-RAMESSES II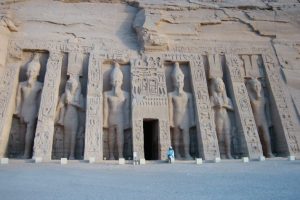 NEFERTARI TEMPLE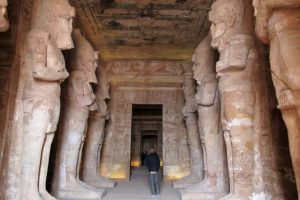 RAMESSES II TEMPLE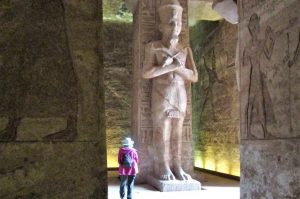 RAMESSES II TEMPLE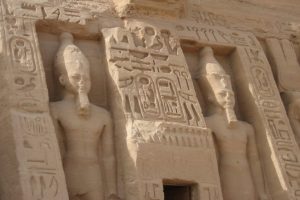 NEFERTARI HATHOR TEMPLE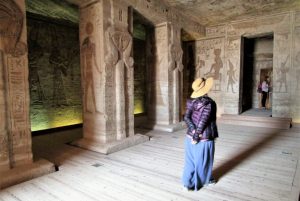 NEFERTARI HATHOR TEMPLE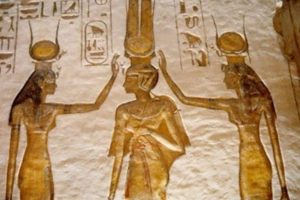 NEFERTARI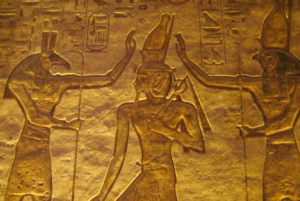 RAMESSES II
DAY 14 – Saturday: Hatshepsut's Unfinished Obelisk, Philae Isis Temple, flight from Aswan to Cairo.
Hotel: Meridien Cairo Airport Hotel, #1, or similar. Hotel night #1. Meals: BB, L, D.
After checking out of our hotel, we begin our day with the Unfinished Obelisk of Hatshepsut. Although the fact that it cracked before it could be removed and brought to Luxor was a disaster in ancient times, it is a wonderful opportunity for us in modern times to see how the obelisks were created.
Next, we have a beautiful treat. The Philae Isis Temple is on an island near Aswan. This temple was partially submerged when the Low Dam was constructed (1899-1902) by the British. With the construction of the High Dam (1959-1970), it would have been underwater completely. Thankfully, it was moved to higher ground on a neighboring island and its beauty continues to shine.
We fly back to Cairo this evening and check into our hotel, conveniently located right at the Cairo airport for easy arrival this evening and for our departures home on Monday.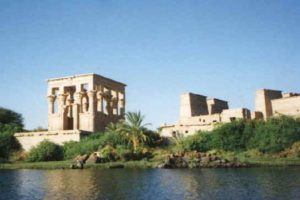 PHILAE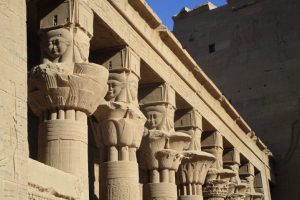 PHILAE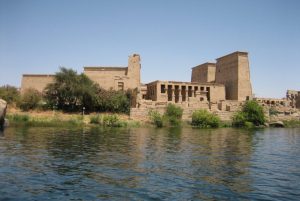 HATHOR COLUMNS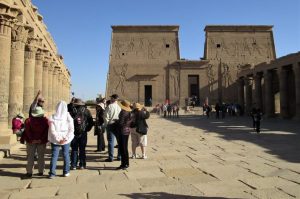 ISIS TEMPLE
DAY 15 – Sunday, Nov 26, 2023: Museum Day in Cairo, Farewell Dinner.
Hotel: Meridien Cairo Airport Hotel, or similar, #2. Meals: BB, L, D.
We have high hopes that the Grand Egyptian Museum (GEM) will be open at the time of these tours. Just as the name implies, this will be a world-renowned museum. It is the largest museum in Africa and will also house the largest collection of Egyptian antiquities.
If for some reason the GEM is not open yet, we will visit the Cairo Egyptian Museum and the National Museum of Egyptian Civilization (NMEC) where the royal mummies are now housed.
It's hard to believe our time has reached an end. We have a final meeting and dinner together before preparing to go our separate ways. Most people will fly home tomorrow morning, but there may be some who have flights leaving during the night tonight.
Farewell Egypt! You will continue to live in our hearts!
Those who are flying nonstop Cairo/JFK, NY, leave late tonight. Their flight (MS 985), leaves Cairo at 3:10am tomorrow morning. The hotel is right within the airport perimeter and there is a shuttle that will take you to whichever terminal you need to leave from. People flying nonstop Cairo/Washington Dulles leave tomorrow evening at 11:55pm.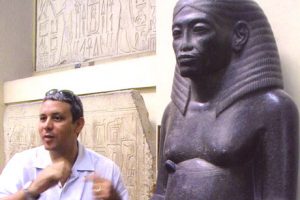 EGYPTIAN MUSEUM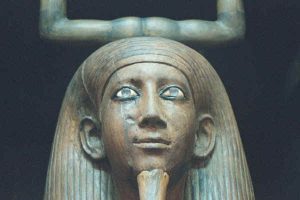 EGYPTIAN MUSEUM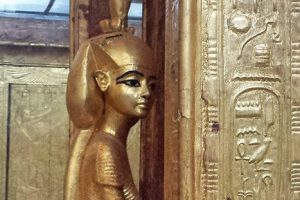 EGYPTIAN MUSEUM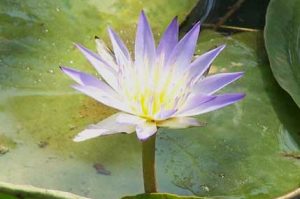 EGYPTIAN MUSEUM
DAY 16 – Mon, Nov 27, 2023: Departure Day, flights home or Free Day.
Meals: BB.
Breakfast is included this morning at the hotel. Each person can leave at a time that is convenient for them. The hotel is right within the airport perimeter and there is a shuttle that will take you to whichever terminal you need to leave from.
The nonstop Cairo/IAD, Washington-Dulles flight (MS 981) leaves Cairo at 11:55pm. Note there wasn't any nonstop flight to Washington yesterday (Sunday evening), so instead, you have a free day today (Monday).
Additional days can be added if there is more you would like to see.
*Note that there may be changes to the above itinerary due to circumstances beyond our control. However, every effort will be made to maintain this program as it is stated.
Visit our original website, 1worldtours.com for information about our previous tours, additional photos of Egypt, our contact information, and more.